"This is your land … But it is my home," Mexican soccer player Miguel Layún tweeted Saturday night.
It was an exclamation point on a 3-2 Mexico victory over the United States in an epic soccer match at Pasadena's Rose Bowl — a game that will go down as one of the most memorable in the historic rivalry between the two countries.
In many ways it felt like a Mexican home game.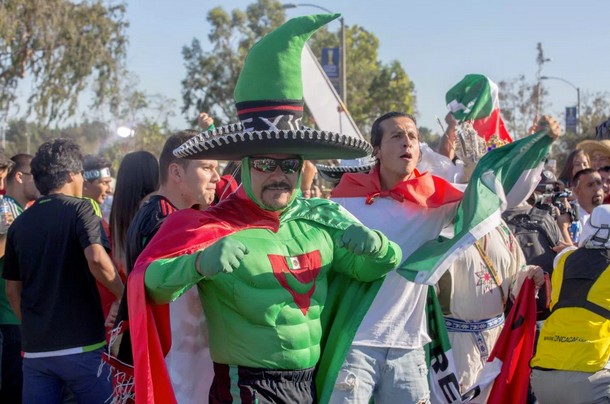 "This is an extension of Mexico," I overheard one U.S. fan say as he looked around and noticed his team's fans were clearly outnumbered by those dressed in green jerseys.
Both teams and their respective fans gave an electrifying performance, one that echoed heritage, politics, and other issues between the United States and Mexico.
It was impossible to miss the symbolism. Prior to the match a "border fence" separating the two countries' tailgate parties held a sign informing Mexican fans: "This Area Is For U.S. Fans Only." Many Mexican fans attempted to cross the U.S. fan zone fence line, and some even got pushy with security.
Mexican and U.S. fans congregated at the fence to taunt each other. "I believe that we will win! I believe that we will win!" sang those covered in American flag paraphernalia. The chants were peppered with occasional slurs like beaners or pinches gringos, but it was mostly good-natured. No one was shot, arrested or deported.